Hello and Welcome to Oasis!
We have an amazing staff who truly love and care for children. From our custodial staff, office, and instructional staff this is a magical school to work. Families are welcome on campus, to volunteer, and take part on committees. The Oasis Community is something all children should get to experience.
Please call 831-424-9003 to arrange for a tour to come see how special Oasis is. 
We are accepting new students and are tuition-free!
Our harvest enrichment cycle is wrapping up and on November 16th, from 6pm-7:30pm families are invited to join us for a showcase of the work of our students and staff.
Our parent group, the OCC, and our fifth and sixth grade teams will be selling food, desserts, and drinks to raise funds to send our fifth and sixth grade classes to science outdoor school!
Please RSVP on Parents Square or by calling 831-424-9003.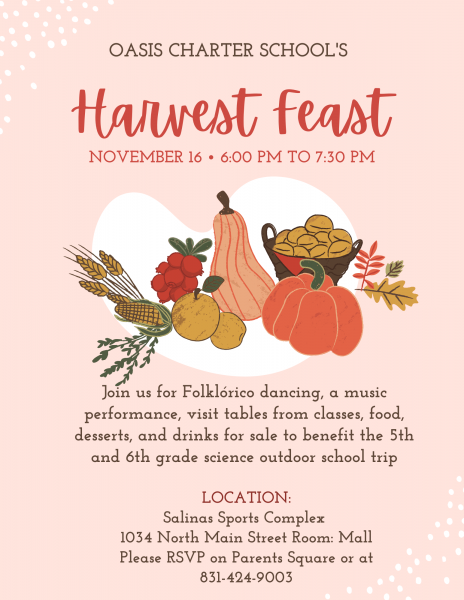 ,