June 2023
We finished the year off with doubling our internal assessment scores, a highly successful Boxland with over 200 people attending over two days, and brought back art and music classes. We also had engaging assemblies from recycling, yo-yos and Growth Mindset to BMX bikes. We got a few of our gardens growing, grew in enrollment by 20 students, and hired more staff for intervention classes for students. The budget grew and is in a healthy state, we now have waitlists for kinder, 1st and 2nd grades, and have made many changes in our building, including new flooring in classrooms. It was a busy but exciting year! Summer school starts soon and is full! Summer school will have fun and engaging math, science and English language arts classes, plenty of recess times 3x during the day, breakfast, snacks, and lunch, and art, music and dance classes in the afternoon. It is a great time to be at Oasis!  We are planning for another wonderful year and look forward to having everyone back on campus after they have a restful summer.
May 2023
May starts with State assessments. This is an important time for students to a get good nights sleep and have a good breakfast. They need to be at school by 8:30 am.
This month is also Boxland!  Enrichment has begun. Information will be posted for families on Parents Square.
April 2023
This month we had spring break and we hope everyone had a wonderful break. W
We had wonderful student assemblies, our second All Family Meeting, a fun Forward BMX assembly.  We completed our internal assessments. 
March 2023
March has started off with more games and activities in the mornings to keep students working collaboratively, educationally, and warm inside  from the cold outside!
We will celebrate Pi Day on 3.14, the wear green spirit day is 3.17.
We are continuing with our art classes. The Arts Council of Monterey County sends a professional artist and students are enjoying their classes. In late April we will offer music classes for all of our students. 
Our Spring enrichment ends this month and we will have our evening celebration on March 22nd. Watch for announcements on Parents Square. There will be performances and exhibit tables for our families to see all that students were able to learn and do.
March 24th NO SCHOOL, this is a teacher work day. No school and no LAS program.
March 27-31: Conference week: Minimum days all week. No LAS on March 31. 
Another exciting month at Oasis!
February 2023
This month we celebrate Friendship Day.  Students also decorated their classroom doors for Kindness Week!
This month we also welcome our art classes! The Arts Council of the Monterey County is sending us a professional artist. Each class will have a one hour class once a week for the next 7 weeks. 
Field Trip Season! 
Our third graders went to the California Academy of Science via a nice charter bus!
Our fourth graders will be heading to downtown Monterey for a California History tour via a nice charter bus.
Our sixth grade will be going to the Egyptian Museum in San Jose.
Great field trips for extended and deeper learning for our students organized by our hard working teachers!
We started a contract with Care Solace. Information has been sent to families. Care Solace is a mental health referral system to help families with the difficult work of finding mental health care. Care Solace will do that work for families and provide them with a list of mental health providers they can call for help.
January 2023
Welcome to the New Year and the continuation of our 22-23 School Year!
January brings some new staff on campus.
We are excited to welcome Andy Franco, who has his MS teaching credential and has worked extensively in ELA intervention. He will join Cori and Marissa on our Intervention Team and will do ELA intervention with Cori. 
We have Nicole Borba joining us from Monterey County Social Services to be our Social Worker/Behavior Coordinator. She will work closely with our school counselor and administration. Nicole comes to us with extensive experience working with children through CPS and Juvenile Hall, her experience working with children experiencing trauma will be valuable as she will be our behavior coordinator. 
The GALA Enrichment will get started this month. We will culminate what students learned at the GALA event in March, more information coming. 
Staff Trainings this month: staff will complete their McKinney-Vento Program training and trauma-informed training on January 9. 
Students and Staff will be celebrating the Martin Luther King Jr. Holiday on January 16th and school will be closed. I encourage you to find ways for your children to be involved in their community in a positive way. This day is called a Community Day of Service. 
As always, thank you for allowing us to educate, smile and laugh with and watch your children grow while they are with us at Oasis Charter Public School.
Dr. Natalie Zayas
December 2022 Update

December was an exciting month at Oasis.
Students took their MAP tests, Winter Around the World was a great success, and the Winter Sing-a-Long was again a community event. Thank you to our OCC who had treats and hot chocolate for all the family members who joined us!
School is on break from December 17, 2022 - January 10, 2022.
Hello and Welcome to Oasis!
We have an amazing staff who truly love and care for children. From our custodial staff, office, and instructional staff this is a magical school to work. Families are welcome on campus, to volunteer, and take part on committees. The Oasis Community is something all children should get to experience.
Please call 831-424-9003 to arrange for a tour to come see how special Oasis is. 
We are accepting new students and are tuition-free!
Our harvest enrichment cycle is wrapping up and on November 16th, from 6pm-7:30pm families are invited to join us for a showcase of the work of our students and staff.
Our parent group, the OCC, and our fifth and sixth grade teams will be selling food, desserts, and drinks to raise funds to send our fifth and sixth grade classes to science outdoor school!
Please RSVP on Parents Square or by calling 831-424-9003.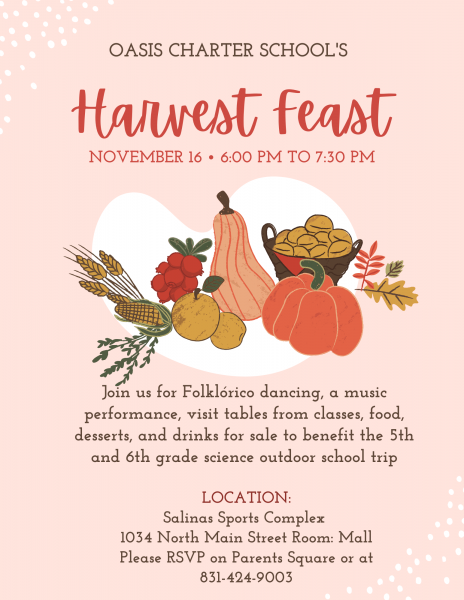 ,